Well, you've probably guessed what the surprise announcement is from the pictures you've already seen… or do we need to spell it out for you? We are expecting another little Edmonds-baby, due June 2019! So there it is! Surprise!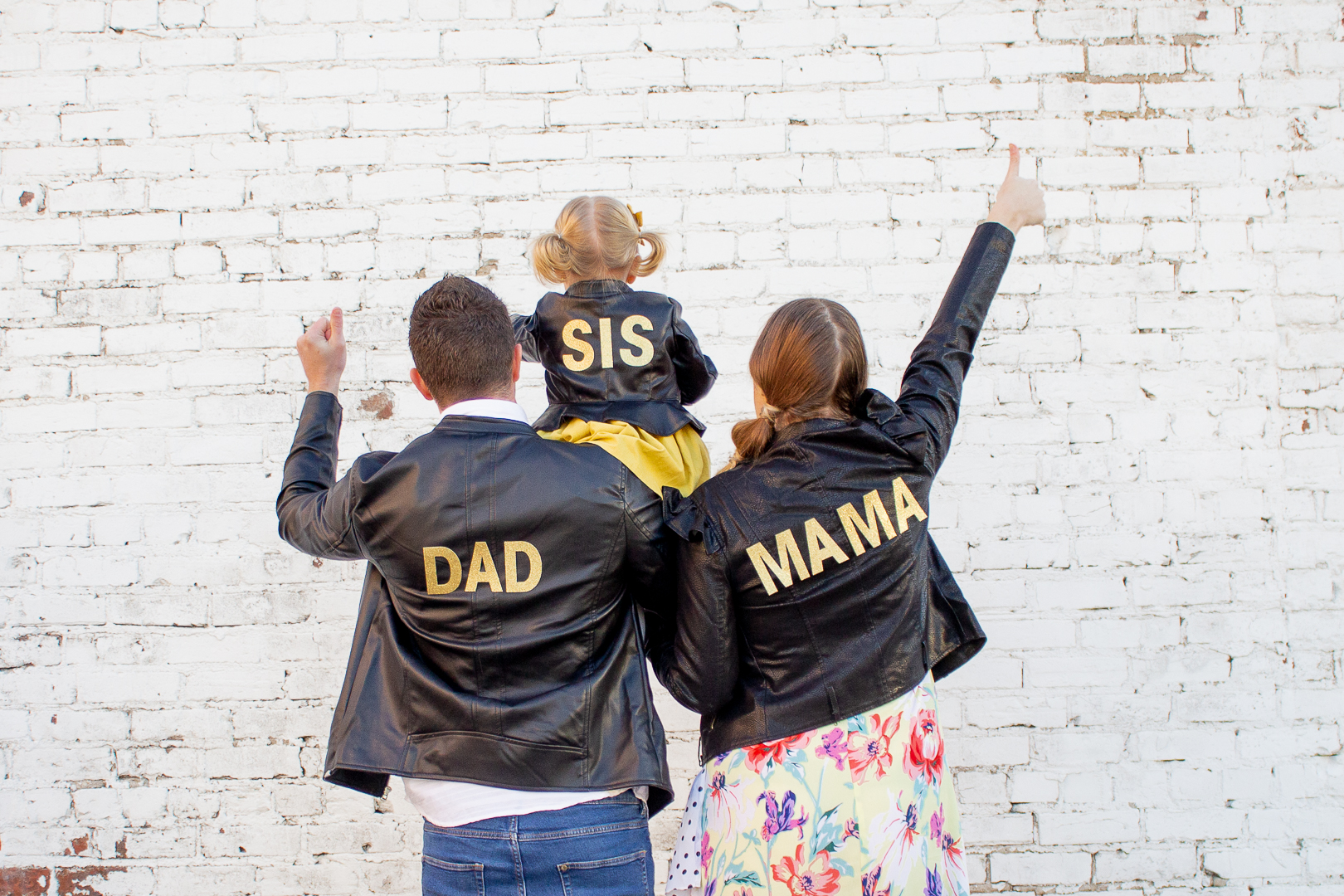 Pin It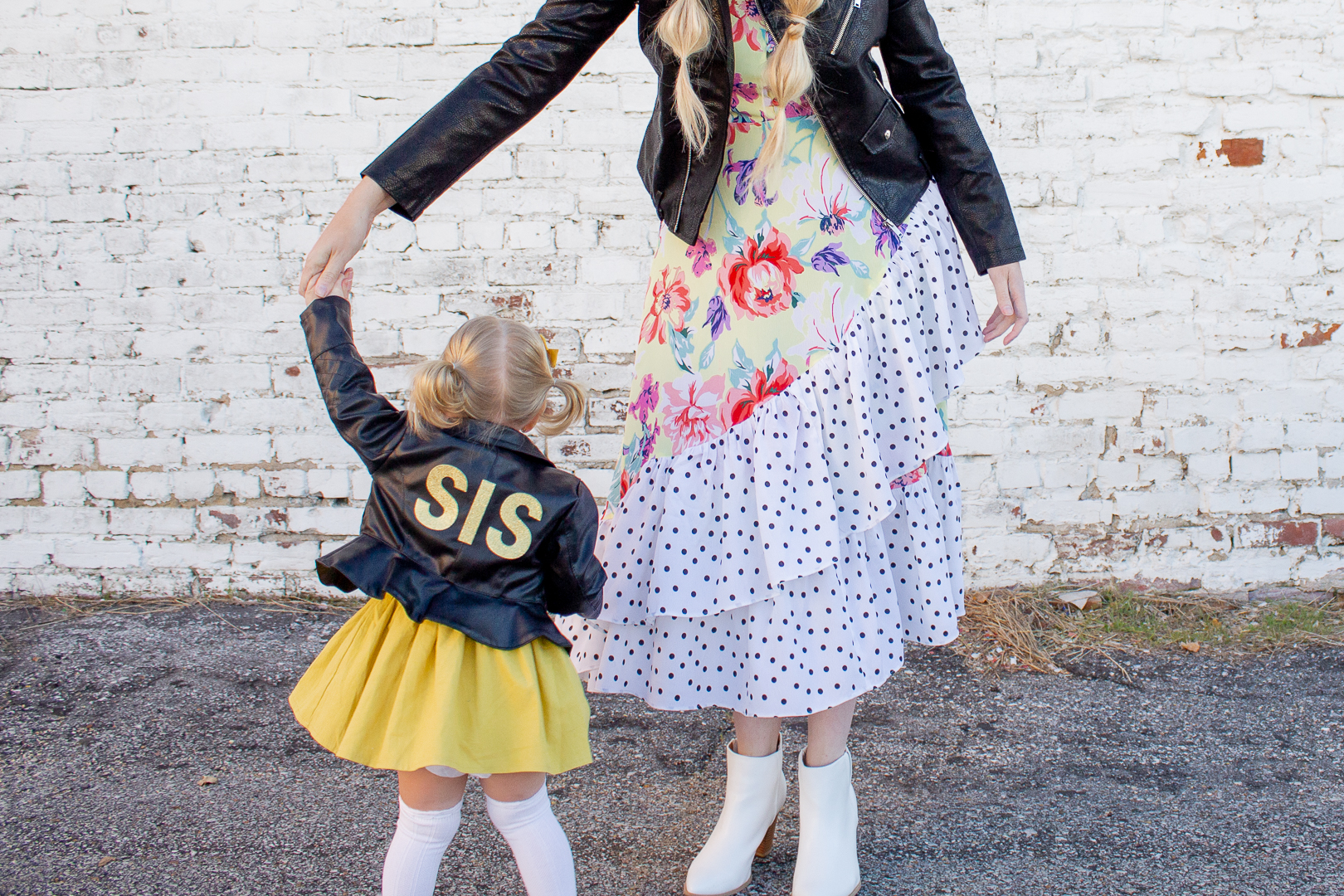 Pin It
SURPRISE ANNOUNCEMENT!
Many of you may remember my pregnancy with Everley and how sick I was. And some of you may have noticed a severe absence in blog content all of a sudden. Well, this pregnancy has not been much better and I've been very sick, hence the minimal activity. Although I have had a few better days this time around, as I have managed to implement the tricks that worked with Evie for this pregnancy. Ginger biscuits by the bed, smaller but more frequent meals throughout the day, day naps, and my trusty left-over prescription meds for morning sickness (that aren't covered with our insurance here, making them almost $500 to refill, so I'm rationing them out).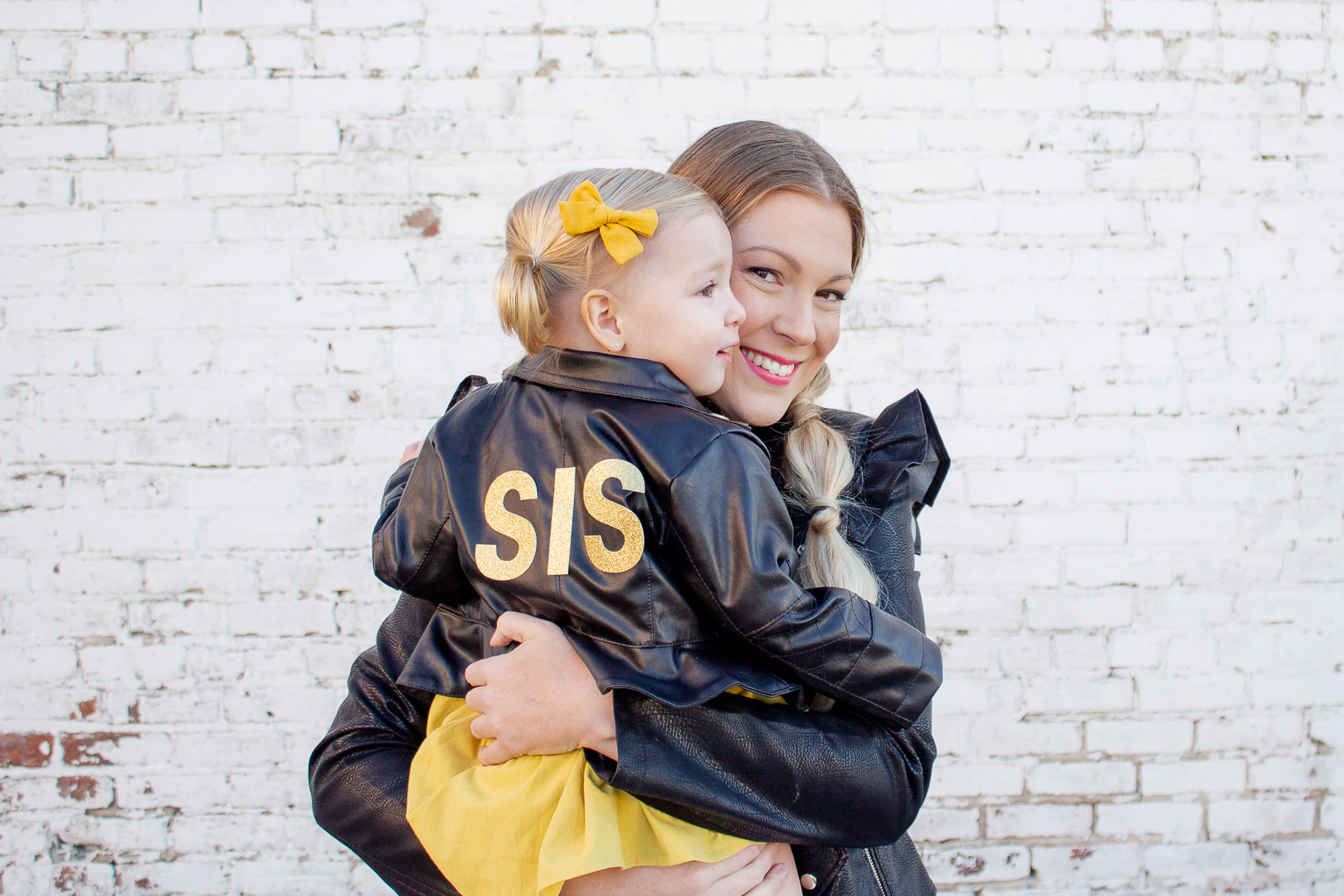 Pin It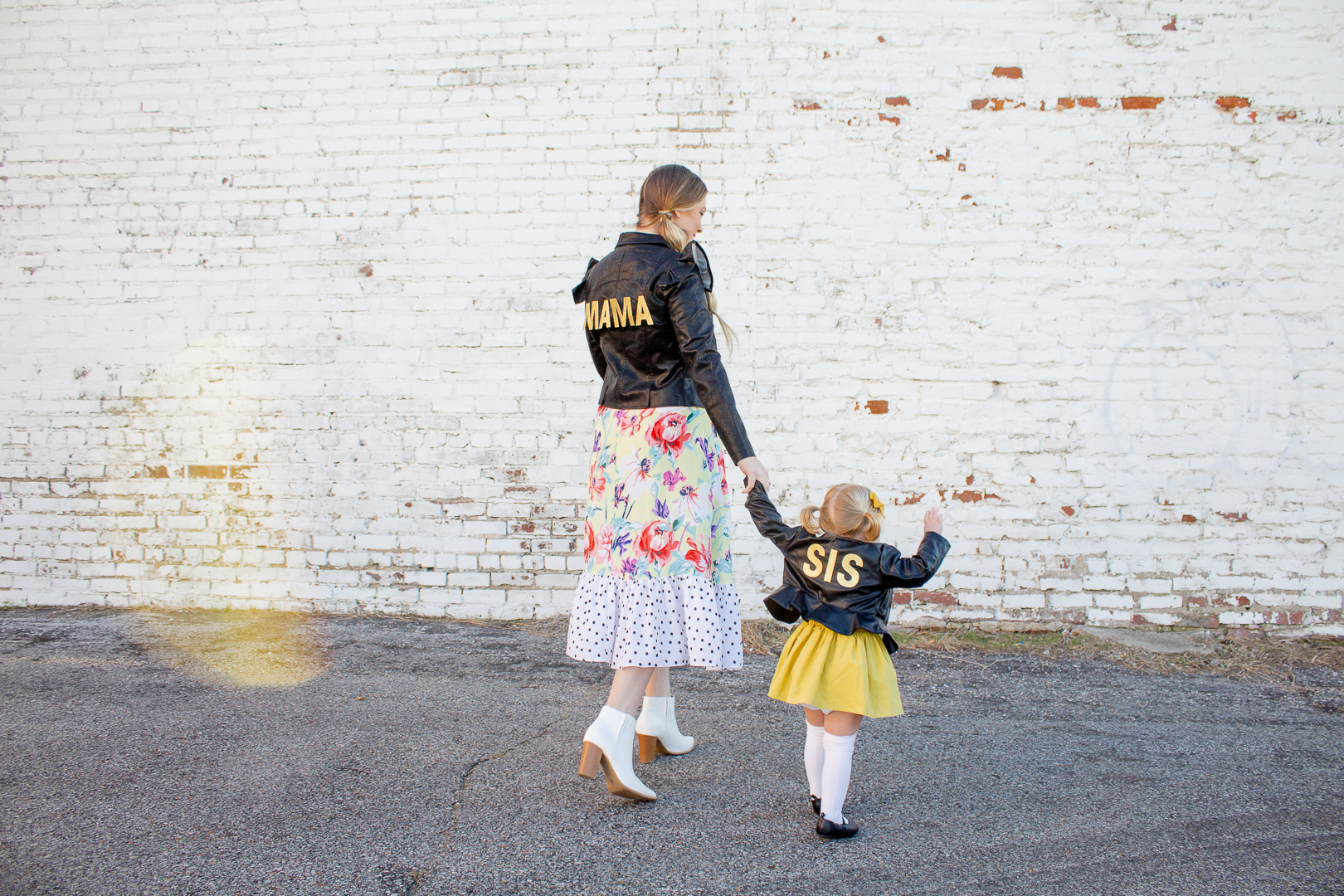 Pin It
I am hoping that I've turned a corner though as the last few weeks of this trimester have been kind to me, and I'm really trying to stay positive that this pregnancy will be different. After all, being sick and pregnant WHILE looking after an energetic toddler, WITHOUT any family around to help out, has certainly been extremely challenging! Haha. I have to laugh, as we did this to ourselves, we moved out of the country, we fell pregnant away from home, not once, but twice!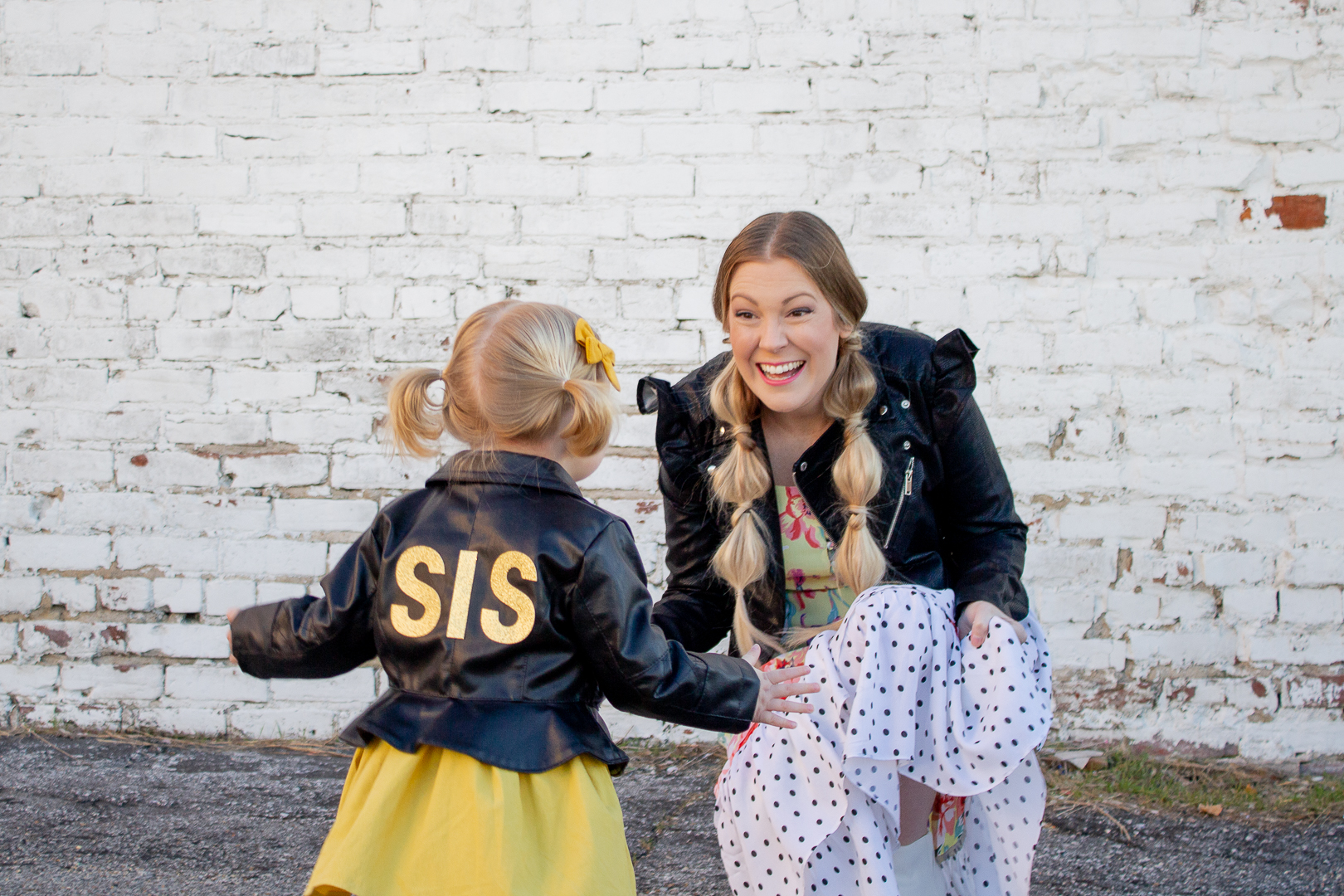 Pin It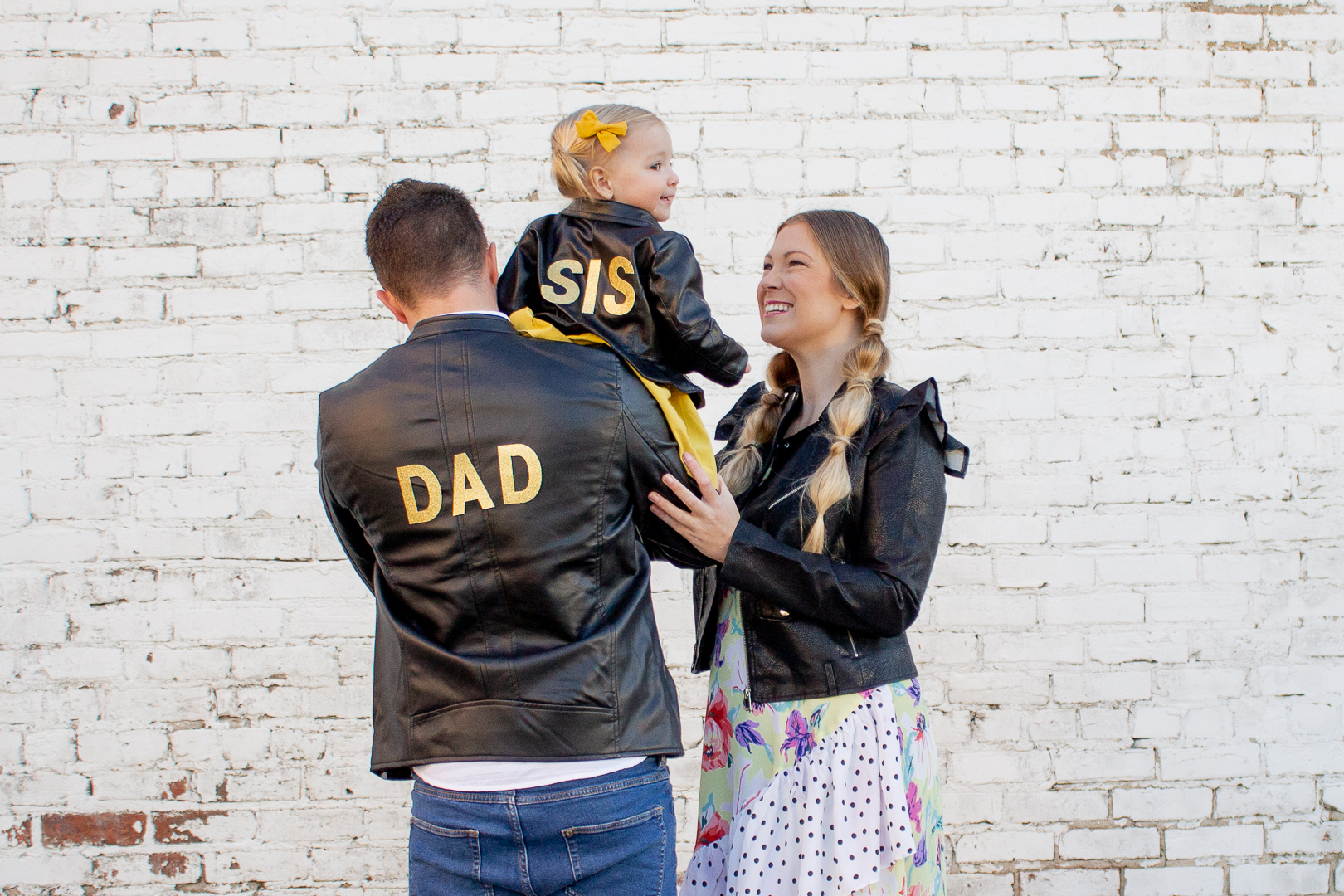 Pin It
Now, for the question everyone wants to know about this surprise announcement… Are we going to find out the sex of the baby? Of course. Haha. You should know we are terrible with surprises. BUT, we are hoping to have the doctor keep it a secret and organize a gender reveal so we can film our surprise when we find out what we're having. I'll share all those details when the time comes. But for now, we are just trying to come to terms with the fact that we are going to be a family of four next year! Still trying to wrap my head around that one. I know Everley will be an amazing big sister, but I am so scared of not having the same amount of undivided attention to give this new baby, as it will be shared between the two of them. So that's been the hardest thing to deal with (aside from the extreme morning/all-day sickness). I'm sure we will adjust accordingly, but it's still a little surreal we will have two little kiddos in our family soon. As much as I hate being physically pregnant (I really did not enjoy it last time), I am trying to look on the bright side of each day and focus on the good. And I'm hoping to remember this pregnancy and all it's stages fondly…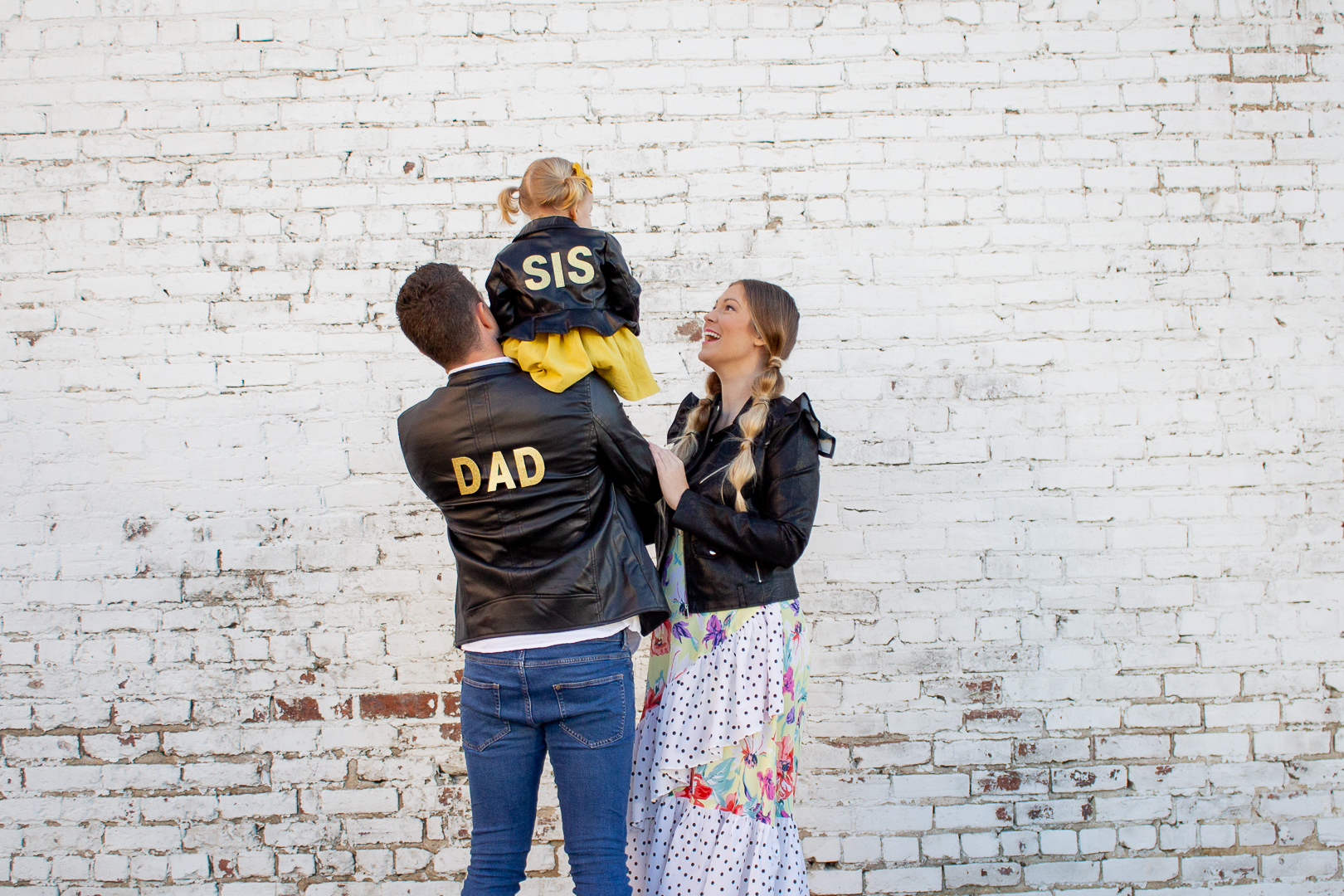 Pin It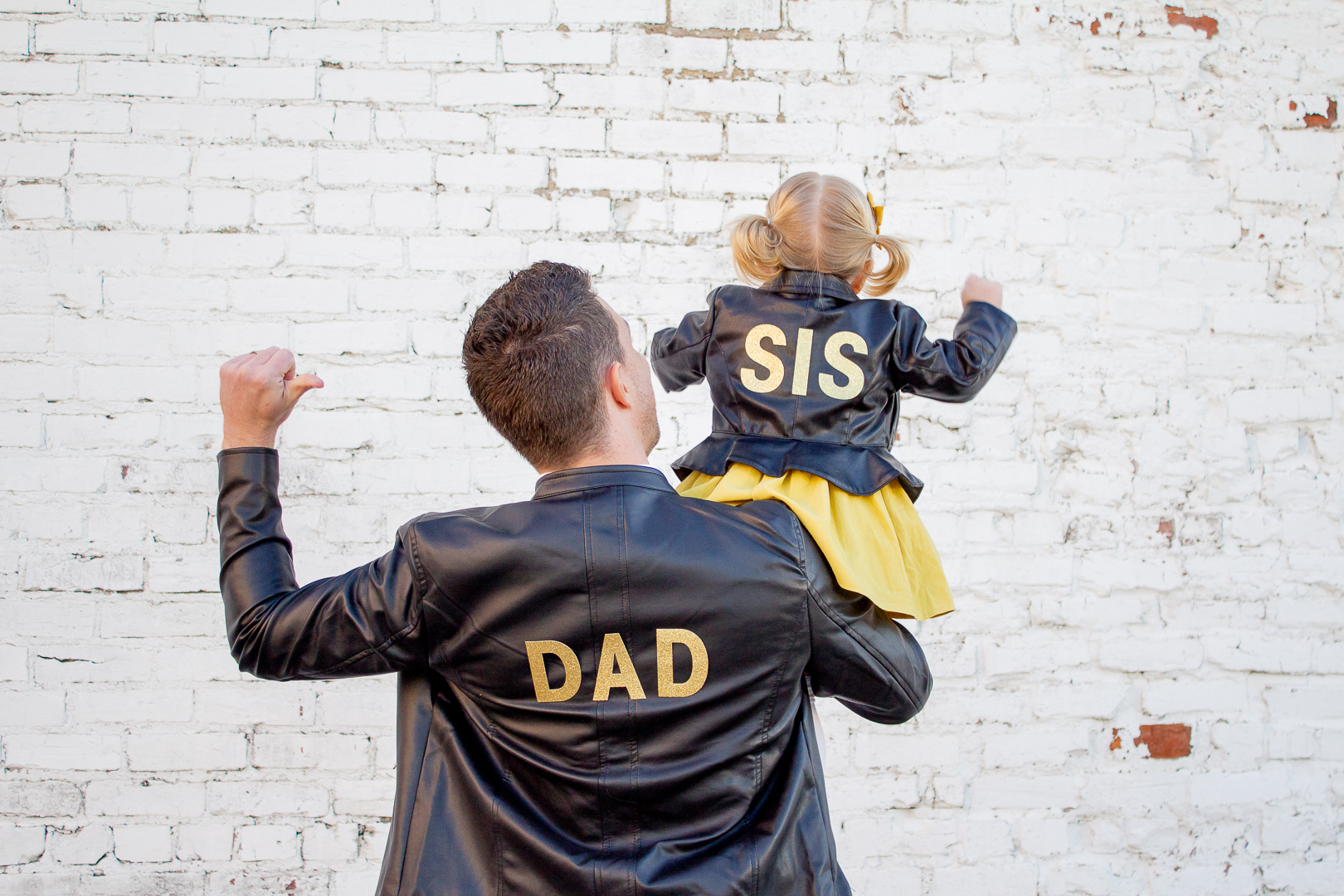 Pin It
OUTFIT & ITEM DETAILS
Brooke-Lyn is wearing a pretty floral and polka dot maternity dress, her leather jacket (with added letters) and her white ankle boots. She used Barefoot Blonde hair extensions in Sandy Blonde to do her hair.
Everley wears a cute black and white piped dress (very short, and worn as a shirt mostly), a pretty little yellow skirt with suspenders, her long white socks and her little black ballet slippers. Complete with her little black peplum jacket (with added letters) and her little yellow hair bow.
Rohan is wearing his denim skinny jeans, a plain white button-up shirt and his leather jacket (with added letters), with his black dress shoes.
Our jackets are all plain leather jackets, and we purchased these Gold Glitter Alphabet Stickers and stuck them on the back for the surprise announcement. It held fairly well on Rohan and Everley's, but mine was slightly different material and kept falling off. But nothing a little magic Hollywood tape couldn't fix! They turned out exactly as I'd hoped and worked perfectly for our surprise announcement.
USE CODE BROOK20 FOR 20% OFF ALL U.S. ORDERS
A special thank you to SheIn for providing Brooke-Lyn & Everley's leather jackets.
NOTE: Our site may contain affiliate links. This means that if you make a purchase after clicking a link I recommended, I may make a commission off that purchase through that site.
LIVE #thecoordinatedlife